Click here to download the Ontario Community ERS Program Flyer 2017
Important Message to Community Leaders
As a community leader you may not feel this is your professional priority and you may not understand the technical aspects – but it is important that we at least have your full Attention to read this over the next few minutes because this is happening now in Ontario for all building types, all businesses, and homes – it is not a hope or dream; a solution is here and we are helping people all over the province.  Perhaps more importantly, we are saving some companies and people from moving out of Ontario. 
Businesses and entire communities can now cut their total cost for electricity as much as 50% via an innovative approach that slashes multiple key areas of how the bills are actually charged. 
Neutopia's Solution is Cutting Hydro Costs as High as 50% in Ontario.
Ontario Electricity Problem Solved: buildings now cutting hydro costs in HALF with ERS systems – unique to Canada! As a leader of your community you can request to participate and have us design your ERS for multiple buildings or streets or entire neighbourhood. Submit your request before November 11!  Community ERS programs with Immediate Installations – or get a hybrid technology ecoPark make use of Ontario forests, our natural resources, and embrace energy independence today; Cheaper, more Efficient, and more Reliable than the grid, guaranteed! 
New Jobs in Your Community
We have set a goal to train 10,000 people across Canada on a variety of job types for getting the ERS boxes deployed  – from simple education and promotions to data entry, internet work, presentations, and even home installations.  For the larger commercial and multi-res sector we have formed alliances with multi-national engineering firms backed by billions of dollars; this is a serious endeavour and we've crossed all our T's.   Don't let your community fall behind. Don't waste another dollar on over-priced energy.  This is a solution that every building in every community can benefit from.  A small ERS only takes up 1 square meter of space. 
Look what we're already doing with forward thinking Ontario communities and private companies: http://www.neutopia.ca/ers-case-studies-current-projects/ OR Click Here for Community Program (2-day, 7-day, 30-day options)
Every day a community waits to do this is costing them well over $1,000 per day.
"It takes us 3 hours to determine what the Minimum savings would be for any building at any GPS coordinate on the planet. In Ontario, we've proven that the savings will fall somewhere between 20% and 50% off the Total electricity bill."

 
(*including Global Adjustment and nasty Delivery charges, this is a TOTAL bill reduction system to cut kWh, Peak Demand, and various sections of each rate section.) 
1,000's of 

Case Studies

 and 

Success Stories

:   

http://www.neutopia.ca/ers-case-studies-current-projects/

Clients Wasting Time:  Many clients are losing close to $1,000 per day waiting for the government or somebody else to do something to change the Rates, or worse trying to figure things out on their own when the solution is available right here, right now. The RATE's are NOT the problem; they can be as little as 15% of your actual bill. The rest are charges that a Neutopia ERS can cut in half.
20% to 50% Cut in TOTAL Electricity costs:  Our Simple 3-Step ERS Process includes visiting existing installation sites so you get to see one or more key component in action, and sitting down with a billion dollar investment partner company that confirms our calculations ($50 billion in revenue last year, that's 10X bigger than Hydro One). We guarantee irrefutable predicted savings. Of course, each ERS has a screen and is also remotely monitored so you see the exact savings every second – there is never any guessing.



Our presentation only takes 

10-minutes

, or we can simply get started right away over the telephone and we'll tell you what we need to do the Free pre-screening. 

Also hear about the top 3 Energy Scams happening in Ontario right now – you might already be being duped! We will show you how to identify and fix it.
"Don't fall for somebody who tells you they can do it; if they could do it they would have already done it. Ontario electricity companies and engineers and consultants have had years to help you. We have worked historically hard and traveled the world to find the best eco-solutions; we have earned your business Canada!!
How to Get Started
Rather than have us go and do an in-person Delegation to every Council across Ontario, we created a simple sign up form and working with the Economic Development Officer we can arrange to be hired on a short-term contract and we'll even train people in the community for full time employment so when our first projects are completed they can continue to do the whole community, and when that's done they can do the neighbouring communities.
Ontario Community ERS Program Flyer 2017
Sign up today; we can have several buildings completed with actual formal business cases showing the exact savings and ROI all ready before the next Council meeting. It's that fast.
Education is Needed. Training is key.
Having spoken with thousands of community leaders, politicians, business executives, and energy consultants we came to understand the greatest obstacles to implementing these solutions and so a major part of our efforts was to identify or create the solutions to overcome each of those obstacles. The result; the creation of a company called Neutopia ecoSOLUTIONS Inc.  It is a network of more than 100 technology companies, engineering firms, and a unique Social Impact investment network representing unlimited funding worldwide. We are proudly a Canadian company built through historical effort and perseverance through the most difficult times. Our Story is shared in our Community Awareness Seminar entitled "An Awe-Inspiring Journey into the Realm of Sustainable Communities" and leaves everyone in the audience motivated with an Immediate Action Plan. It's for people of all ages and they love it. This not only stimulates immediate savings on energy costs, it also creates permanent employment in every community.
"Many people we meet say they know about this or know about that and know how to do this or change that etc. The simple truth is that if people knew how to do it then they would be doing it. We can do it in 3 hours and we can employ people in your community to do every building, every street, every neighbourhood. When they're finished they can do the neighbouring towns.It increases exponentially.
After that they can use our Internet app to do towns in other countries, or they can travel with us – our Neutopia Ambassador Program is the most exciting job on the planet where you get paid to travel, help people, and change the world. Anyone can do it. Any age. Any education level. Any language. Any gender. Any special need. Any religion. Anybody with a smart phone or laptop, working from any location with Internet connection. It just might be the most amazing and exciting career opportunity ever created."
Next Steps
The first step is to schedule a telephone call to discuss the opportunity to start an ERS Plan in your community that will immediately create permanent jobs. 2-day, 7-day, and 30-day Plans available. It is ideal for towns who have an energy plan but have NOT cut their actual Total Electricity bills in half yet: so many communities get caught up writing report after report but no serious action.  Keep in mind that ERS would be complementary to any other efficiency initiative; it does NOT stop what you're doing – it makes whatever you are doing a lot better.
It takes us 3 hours to pre-screen any property, and 9 days to design an ERS system to cut the bills anywhere from 20% to 50% for any building in Ontario. Our goal is to do this for several of your buildings and homes and train local people – to create permanent jobs in your community to continue once we're gone.
Our program includes 18 months of on-going support. This is not about writing reports; it's about immediate action. This is something  to contemplate at next Council meeting, next dinner with friends, talk at the office. Every water pump station should have this and every manufacturing plant, every farm and every hotel, every convenience store and every office, every apartment and every school, even the hospitals and senior homes etc. Canada lacks the education and technology know-how and this program fixes that.
Ontario Community ERS Program Flyer 2017
What Exactly is ERS?
ERS Energy Solution simply stands for Efficiency, Reliability, and Sustainability. We used to joke around calling it the 'electricity recycling system' but that was to throw off the competition. ERS  is not one particular technology (there is no magic box for all) – rather it is a method that eliminates the need for the government to spend $800 billion to create a 'Smart Grid' across any province. We first set out to understand why Ontario's electricity is so expensive, why the grid is so inefficient, and what technologies would be required to make a smart grid.  We had a hunch that you don't need to actually spend hundreds of billions of dollars to create a national or provincial 'smart grid', but can instead focus on creating a 'smart building'.  
Sure there's all kinds of technologies and smart building automation systems to have inside the building, but our focus was on the outside; we wanted to create a solution that connects between the grid and the building, in the building, or beside the building.  Most people just see power plants, wires, and transformers but there's a lot of technology on the grid and at specific junctions and nodes.  We investigated, we interviewed over 100 technology manufacturers, we traveled over 300,000 km around the world meeting with utility companies, community officials, business executives, engineers, and investment groups.
Over the past several years we created a truly innovative solution that combines a variety of weapons to cut different sections of the electricity bills, including technologies and services.  Our ERS Platform enables us to custom design the specific configuration of components that any smart grid could have for a given area, but instead have it all put into a box next to any building specific for that building.  A new electrical system, still connected to the provincial grid, but which can operate in parallel or completely independent. In some cases there will be no moving parts at all and just sit there for 40 years with little to no maintenance like a transformer, while in other cases there may be 1 moving part and require servicing every year and half, or have several moving parts and require dedicated maintenance intervals. Each building is unique.
We've completed years of studies having installed sophisticated electricity measuring and  monitoring equipment in hospitals, senior homes, apartment complexes, farms, and many manufacturing facilities.  We realized that 100% of all buildings we did these measurements at can all cut their electricity bill by 20% to 50%.  All with a custom designed ERS box installed right outside without changing out any light-bulbs or equipment in the building, and not asking a business to modify behaviour like the common provincial Peak Demand Reduction and load shifting programs need in order to provide some relief to the grid during peak times.  Those programs cost a horrendous fortune to our rate-payers and there is now a much better way.   
Get Started Today!
Business owners can start having these designed immediately for individual buildings, and community leaders can hire a Neutopia ERS team on short-term contract work to do government buildings, a whole street, or have a system created for an entire neighbourhood.  We provide multiple quotes from multiple manufacturers for different configurations and a range of options for each building is presented.  It's important to understand that no two buildings will ever require exactly the same configuration of technologies, even if they are part of the same franchise and look the same on the outside.  Like two twins they can look the same on the outside but have completely different metabolisms.
Anyone can do it now, rather than wait for a retrofit of our entire grid. The result is a whopping cost reduction off the total electricity bill by as high as 50% (in Ontario).  
People Need to be Accountable;  this is now possible and everyone should be doing it
Anyone who complains about high electricity costs should read this message: don't let anyone lead you to believe it is an impossible problem that nobody can solve because those people are just not trained so they prefer to blame the government rather than hear that a solution does exist and it is cutting electricity costs by as much as 50%. This is here, now, and it is now being deployed to solve the problem and you can get help whether for individual buildings or whole streets, or entire neighbourhoods.
We are saving companies from having to move out of the province.
We are saving seniors who had trouble paying their bills.
We are helping large multi-national corporations and we are helping the struggling convenience store owner.
New and exciting jobs are being created.
Don't let your community fall behind. 
There is NO magic box solution that solves everybody's problem but there is a solution to cut everyone's electricity costs by 20% to 50%, measured and monitored 24/7.  People are lazy. They want a magic box, but this is NOT about a particular product from any one manufacturer; it's about how to custom design and fix a series of problems that will tackle multiple charges on each electricity bill, because it's a specific combination of solutions for each address that is needed and no two buildings will require exactly the same solution.  We can custom design the exact solution in 3 hours for any building, any street, any neighbourhood, at any GPS Coordinate on the planet. And now we launched a program to create 10,000 new jobs across Canada, starting right here in Ontario. Communities will immediately save big on their own electricity costs while also creating permanent employment. It's a win-win-win for our communities, for economic development, and for our environment. Visit our website, and attend a Neutopia ERS Training day in your community. 
Communities Continue with Same Mistakes
ERS boxes can be custom-designed and installed on buildings simultaneously while communities across Ontario continue to measure and monitor GHG's and continue to write report after report with slow progress.  By installing ERS systems today, they will save $1,000's or $10,000's per day or per week. One community near Toronto was over-spending on electricity by $20,000 per week and we presented this at their Town Hall after requesting a meeting but the actual decision-makers didn't attend. Consultants and an 'energy manager' attended, but they were not trained in ERS technologies and did not know that this was possible.  That's over $1 million per year in wasted tax-payers dollars on a problem that has an easy solution.
One of the leading obstacles is simply lack of training and this is a major problem in Canada right now so we solved it by creating this unique program. Communities NEED to understand that they should NOT be fooled into assuming you need to do study after study paying out $10,000's or $100,000's of tax-payers money reinventing the wheel or focusing on long drawn out retrofit programs and essentially delaying an immediate 50% reduction in Total Electricity costs easily available right now.
Customized ERS Solution – Minimum Savings Report in 3 Hours
Every building can be pre-screened to identify the minimum savings in advance, which so far has always been between 20% and 50% although some of the buildings we're working on are contemplating a full 100% off-grid. This is happening now; it's not the future. It's not waiting for some new government policy. It's not waiting for electricity prices to get worse. It's people who are fed up and simply deciding to take a stand. And it only takes 3 hours to screen any building, any city, any GPS coordinate on the planet.
Look what we're already doing with forward thinking Ontario communities and private companies: 
http://www.neutopia.ca/ers-case-studies-current-projects/
OR
Click Here for Community Program (2-day, 7-day, 30-day options)
AND
Community eco-PARK Projects- the greatest Solution for a Sustainable Planet
Event Webpage:  http://www.neutopia.ca/ontario-energy-event-2017/
We invited over 800 politicians, mayors, councillors, and every member of parliament across Ontario to attend our unprecedented public awareness training seminar.  Over 250,000 km traveled around the world; it may be the most aggressive and comprehensive study for climate change solutions and energy cost savings ever completed.
We are now stimulating community leaders, property management companies, utility companies, engineering firms, energy consultants, business owners, and home owners to learn about our innovative study and our ERS solution to immediately cut the electricity costs in Ontario.  The Neutopia ERS solution is now available and it can benefit everyone from the Generators to the Distributors and down to the Consumers. Savings of 20% to 50% are easy.
We look forward to working with you!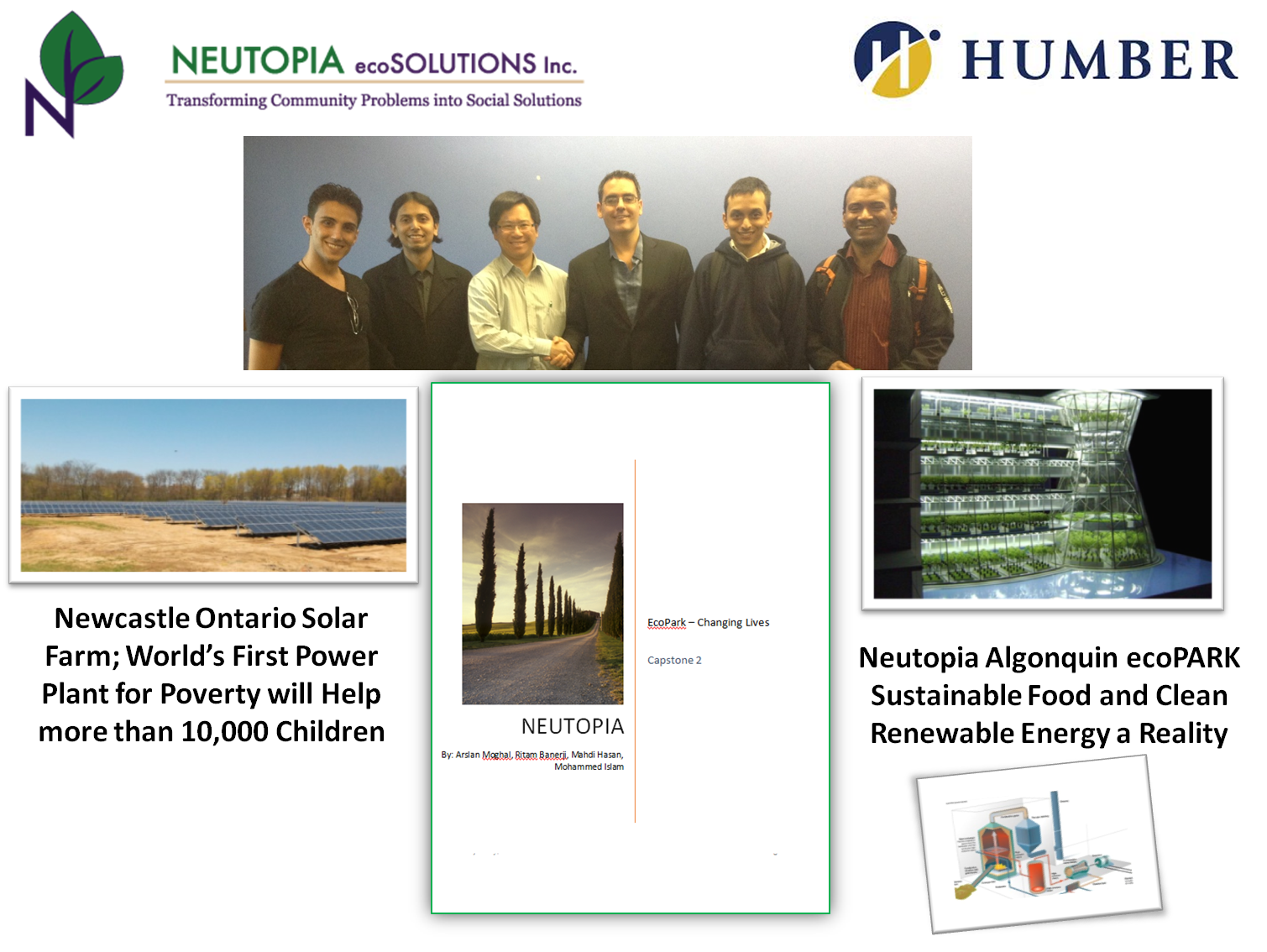 Humber College's Capstone projects offer students an opportunity to excel beyond the regular scholarly experience to enable the students to benefit from direct work experience on real-life projects making a difference in the world.  With a focus on Sustainability, Embracing the Value of local Natural Resources and prioritizing Energy Conservation, and under the guidance of their distinguished professor, students working with Neutopia were able to gain valuable insight into the rigors of working on a Neutopia ecoPARK project.
The 2 main Neutopia ecoPARK Projects:
1) the Power Plant for Poverty project in Newcastle, an OPA FIT 1 Solar Farm that will be helping thousands of children every year (Anyone wishing more info can contact Neutopia directly as there are regular updates available for all parties involved)
2) Aglonquin Park Biomass ecoPARK, an OPA FIT 1 Biomass Cogeneration project that also includes a variety of synergistic cleantech opportunities such as Rooftop Solar, Ground-mount Solar, Cogeneration, Purpose Grown Crops for Canada, Wood Pellets and Indoor Greenhouse to convert the massive wood processing facility, a property that has been idled for so many years, into an economic development dream project.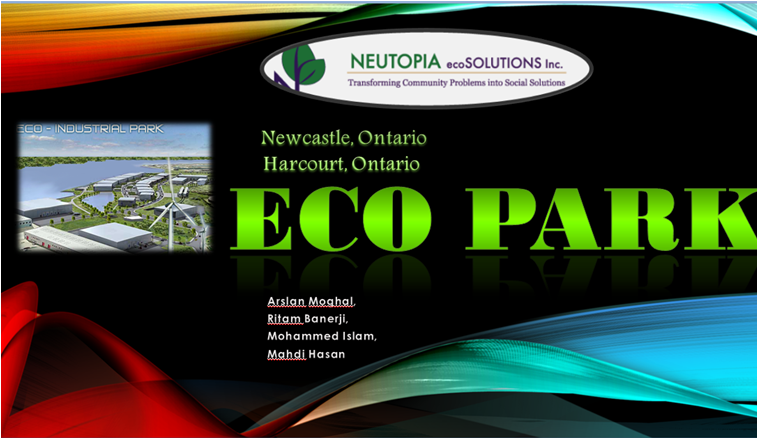 The students also shared in the experience of working and communicating directly with community leaders, local economic development officers, the Ontario Power Authority, local electrical distribution companies, as well as some Neutopia partnership companies including multi-national engineering firms who have built 100's of cleantech projects all over the world.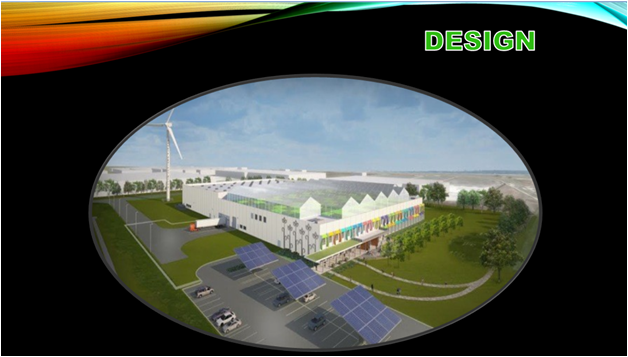 Preliminary Scope of Work:
Perform energy assessment of technologies to be implemented
Determine major pieces of equipment that would be using most energy
Profile energy use patterns, consumption vs demand
Profile emissions data
Identify operational savings by implementing higher efficiency technologies – estimate cost, savings, payback
Retrofit opportunities – for existing equipment on-site or spec'd in; estimate cost, savings, payback
Benchmark against similar facilities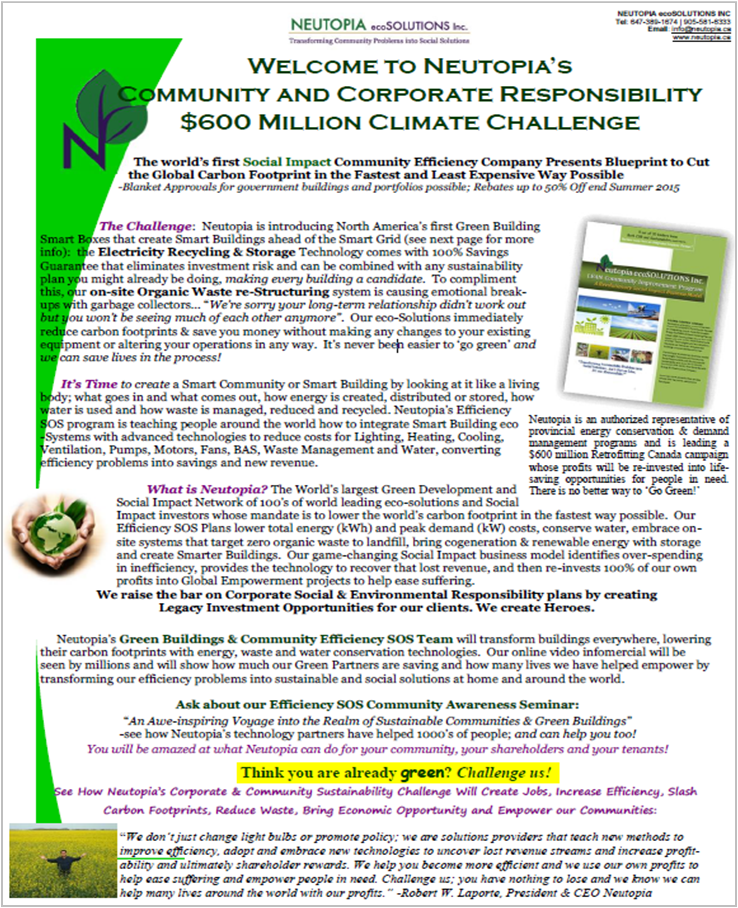 Add Guaranteed Savings to Existing Carbon Reduction Plans
Only Neutopia Ambassadors are Providing this Exclusive Solution
Governments can Save Tax-Payers $Tens of Millions in the First Year Alone
Our Total Efficiency SOS Plan eliminates a year's worth of studies and reports to accomplish an immediate action plan within a few weeks, prepared by a team of Engineers and Green Building Experts focused on Sustainable Communities and Efficiency Technologies
If a client is not interested, please let us install at our own cost and pay you monthly royalties as profit sharing or donate to a charity!

1000's of Neutopia Ambassadors need to be trained –

help us coordinate your local training program with your Economic Development & Employment offices; Every Building in your Community is a Candidate! Start with Government-owned buildings and lead by example!
Our eco-Solutions immediately reduce carbon footprints & save you money without making any changes to your existing equipment or altering your operations in any way. It's never been easier to 'go green' and we can save lives in the process!
The Challenge: Neutopia is introducing North America's first Green Building Smart Boxes that create Smart Buildings ahead of the Smart Grid: the Electricity Regeneration – Up-cycling, Recycling & Storage Technology comes with 100% Savings Guarantee that eliminates investment risk and can be combined with any sustainability plan you might already be doing, making every building a candidate.  Governments can save tax-payers $tens of millions in the first year alone. We assessed the energy intensity of one town in the GTA and estimate they are over-charging tax-payers by at least $20,000 PER WEEK. The immediate impact this technology will have worldwide is unprecedented.  It took the catalytic converter 17 years to become mandatory for automobiles, and we are not waiting for a law to enforce this carbon reduction technology, especially with such a massive environmental impact combined with a lucrative financial benefit simply waiting to be embraced.  This technology has become the new 'First Step' in any community efficiency or green plan, and we are offering it as part of our Total Efficiency SOS Program or as a complete stand-alone solution.
To compliment this, our on-site Organic Waste re-Structuring System is causing emotional breakups with garbage collectors… "We're sorry your long-term relationship didn't work out but you won't be seeing much of each other anymore".
While government leaders may be interested, we have come to learn that some property management companies do not want to install them because they collect management fees based on a % of the rent, which includes electricity, waste and water costs. So if Neutopia's new "Green Building Smart Box" lowers those costs for the tenants, including our own government offices, then the property management companies could potentially lose profits, even though they say they want to be as efficient as possible.  It's a catch-22 that is never talked about in the media, and we want community leaders to get involved ASAP because that is actually the biggest obstacle in global greenhouse gases, it's not transportation; it's our own buildings.  There are definitely some property management companies and community leaders that would be interested and we want to find them!
How can you participate? It is our priority to find the communities and companies that are interested in reducing these costs without any investment and without changing any equipment or operations. While the systems have an ROI of 20-50%, we are also interested in installing at our own cost and paying the real estate companies or municipal governments a monthly royalty and we know that could be millions of dollars for without them even investing a single dime.
Regardless of which route we take, Neutopia devotes its own profits for our Social Impact Community Empowerment initiatives so it is really the easiest solution to cut a community's carbon footprint while simultaneously benefiting people in need.
It's Time to create a Smart Community or Smart Building by looking at it like a living body; what goes in and what comes out, how energy is created, distributed or stored, how water is used and how waste is managed, reduced and recycled. Neutopia's Efficiency SOS program is teaching people around the world how to integrate Smart Communities and Efficient Building eco-Systems with advanced technologies to reduce costs for Lighting, Heating, Cooling, Ventilation, Pumps, Motors, Fans, BAS, Waste Management and Water, converting efficiency problems into savings and new revenue.
Neutopia's Green Buildings & Community Efficiency SOS Team will transform buildings everywhere, lowering their carbon footprints with energy, waste and water conservation technologies. Our online video infomercial will be seen by millions and will show how much our Green Partners are saving and how many lives we have helped empower by transforming our efficiency problems into sustainable and social solutions at home and around the world.
What is Neutopia? The World's largest Green Development and Social Impact Network of 100's of world leading eco-solutions and Social Impact investors whose mandate is to lower the world's carbon footprint in the fastest way possible. Our Efficiency SOS Plans lower total energy (kWh) and peak demand (kW) costs, conserve water, embrace onsite systems that target zero organic waste to landfill, bring cogeneration & renewable energy with storage and create Smarter Buildings. Our game-changing Social Impact business model identifies over-spending in inefficiency, provides the technology to recover that lost revenue, and then re-invests 100% of our own profits into Global Empowerment projects to help ease suffering.
We raise the bar on Corporate Social & Environmental Responsibility Plans by Creating Legacy Investment Opportunities for our clients.
We create Heroes.
Go Beyond the Common Savings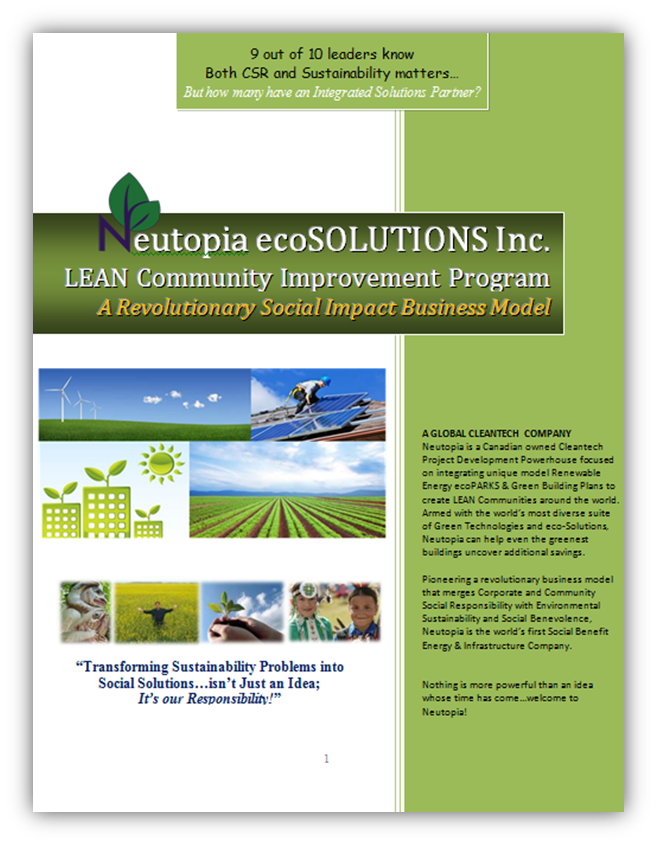 Join Neutopia's Green Partnership Program to receive a Total Green Building Solutions Efficiency SOS Plan highlighting immediate ways to save on energy, waste and water.  We can do the work of a full time on-site Energy Manager and you will have an entire team of engineers and Green Building experts all working together to provide you with a customized solution based on your specific problems.
We can have a total Green Building Efficiency SOS Plan within weeks, at a fraction of the cost of a dedicated Energy Manager and via a system that can have your executives reviewing multiple quotes from multiple manufacturers to decide which technologies you would like to pursue immediately, while tapping into our Green Investment Network to enable you to save your own budget for other needs.
We can accomplish in a few weeks what it could take you months or years to do. Trust us, we traveled 100,000 km across North America and are still in pain to see all of the wasted opportunities every time we walk into a government building, library, community centre, school and hospital.
The biggest problem are employees or company's who assume they are doing everything they can and simply do not even want to listen (which could also be a sign of lack of resources to efficiently multi-task, making our program even more beneficial!).  The second biggest obstacle is that in many cases a building may be managed by a company that collects management fees based on rent. This includes energy, water and waste management costs. So no wonder our largest Property Management companies are not racing to retrofit their entire portfolios. Sure, they do a few buildings to make the news and get projects published on the government energy board or local distribution company website to make it look like they are a 'green company', but we are intimately involved in the industry and we know who has tenants who are being severely over-charged for energy and waste and we want to help.  However we can't force people to conserve they need to want it. We are merely problem solvers and we know some people simply don't want to conserve because it will cost their shareholders millions of dollars.
This means we need to find companies who put Conservation ahead of shareholders financial rewards and we know this is a difficult mission. The surprise for most is that the financial rewards could very well be much greater than anyone anticipates as we have uncovered some amazing problems in communities and companies…in one case it was an increase in revenue of over $100 million per year. That was for an energy company in Alberta and was the impetus for Robert Laporte, CEO of Neutopia, to quit his job and found this company so shareholders can see how becoming more efficient can indeed result in financial gain while simultaneously becoming quite possibly the biggest legacy investment of their lifetime.
Learn how the smartest buildings are going beyond retrofitting Lights & HVAC to incorporate their own on-site energy recycling systems, even combining it with solar, wind, biofuel, W2E or cogeneration for hot water and electricity as a free by-product!
Transforming Waste Management Nightmares into Profitable Dreams!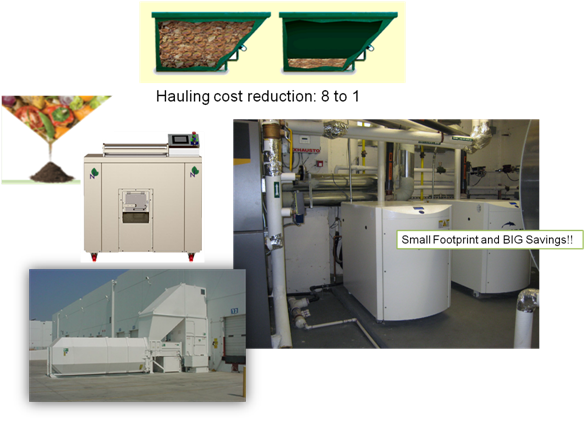 On-site Organic Waste boxes eliminate odours & reduce waste costs by 90%!! Call us to assess your needs whether it's for a school, high rise condos, offices, shopping malls, hotels or industrial sites. We have the largest portfolio of waste management solutions and our on-site Green Box takes care of all organic waste (food, scraps, yard clippings etc.). No more sky-polluting compost piles, no more expensive waste to energy technologies, just a simple solution that every building will eventually be incorporating…call to get started today!
Training Seminars
Inquire about our Tenant and Property Owner Awareness Seminars…See what others are doing and how you can save more!  You will be amazed at what Neutopia's global network of solutions providers are doing all over the world; in remote regions of Africa, in mining camps, in high rise towers, schools, prisons, hospitals and government buildings. We can customize our presentation to meet the needs of each audience. It has been presented to thousands of people across North America, Caribbean and Southeast Asia…and even more via Skype.
Smart Building Green Box cuts Electricity Charges from Smart Meters -Becomes new first step before any efficiency retrofits considered
May 13, 2015 – TORONTO — Neutopia ecoSOLUTIONS Inc., Canada's first Social Impact & Community Green Plan Company (neutopia.ca, Est. 2008), recently presented the findings of an unprecedented Restaurant Efficiency SOS Program to franchise executives in Montreal.  The 100+ page report was co-authored by more than a dozen engineering firms who are part of the Neutopia Green Development Network, a global collection of the world's leading eco-Technology manufacturers that help property owners reduce operating costs.
The purpose of the Efficiency SOS Plan was to determine if there are any ways to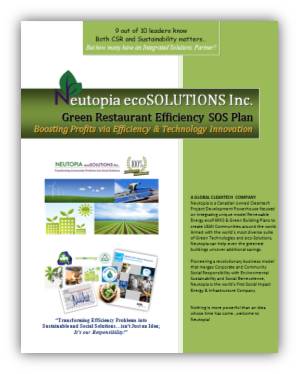 further reduce the cost of operations that may have been overlooked in shareholder meetings or with previous upgrades. Neutopia eagerly took on the project knowing that the results could be quickly shared with the more than 200 restaurants across Canada that are all part of the same parent company. The results were shocking; if the estimates for the pilot site are to be taken as an average across the whole portfolio it could mean more than $1 Million in savings annually from just one of the technologies.  Neutopia hopes franchisees will want to combine it with one or more of the other technologies in Neutopia's Freedom from the Grid suite of eco-Solutions like renewable energy with energy storage, on-site generation, on-site solution to target Zero Food Waste to landfill, or the more common LED lighting and HVAC upgrades, all of which have a drastic and immediate impact on a company's bottom line.
While the owner of the pilot site decides which savings opportunities to pursue at the Scarborough location, the parent company, which recently approved an investment of more than $5 million in renovations as part of a company-wide rejuvenation program, now has to decide whether or not to immediately authorize a national roll-out of the innovative program.  While the decision to participate will ultimately be up to each restaurant owner, Neutopia's 100% Savings Guarantee eliminates any financial risk to the franchisees.  Furthermore, the eco-Solutions are all proven technologies that are backed by Neutopia's Green Investment Network which gives the parent company the option to save their own budget for their rejuvenation program while tapping into Neutopia's Green Financing program.
What's most interesting is that Neutopia's Green Development Network includes coast to coast installation teams and could have the entire company retrofitted within months. At $3000 per day estimated over-spending on energy alone, the savings will accumulate quickly and could end up paying for the entire $5 million company rejuvenation program before that program is even completed.
What if a Restaurant is already doing a Green Plan?
In the case where a franchisee says they are already pursuing a 'Green Plan', only Neutopia Ambassadors are authorized to provide the game-changing Smart Building Combined Energy Regeneration & Up-cycling with Storage system in Canada which can have an immediate reduction of electricity charges from 20% to 50% without making any changes to equipment or operations. We believe it is the world's easiest solution to cut the global carbon footprint in the fastest and least expensive way possible and can be combined with any other Green Plan including efficiency, renewable energy and waste management. So if a restaurant is already doing a Green Plan the only obstacle is if it is being done by a company that doesn't want to save even more without changing anything, and that's unlikely.
"Besides," says Robert Laporte, CEO, "Neutopia is the world's first Social Impact Efficiency Company and our profits will be re-invested to help people who are suffering. This is great for restaurants who can promote this on their menus so patrons can actually visit our website to see how they are having a direct involvement in helping to change somebody's life. That leftover food waste could be converted to medicine and education programs, and that paper towel just might be turned into a solar panel to provide energy to a family in need. The ideas are endless, and we are thrilled to be launching this program across Canada. While we push ahead with our Green Restaurant program,  our next targets are Municipal leaders and property management companies…we have identified tens of millions in savings in Canada's government buildings alone, and we have already reached out to the property management company managing 9000 of their buildings, hoping they will want to work with us. We tried We are on the verge of saving tens of thousands of lives in a way that nobody dreamed possible."
About Neutopia
Neutopia is a Canadian cleantech project development powerhouse focused on integrating Municipal Green Plans and Renewable Energy ecoPARKS to create LEAN Communities around the world.  Neutopia is a global network of Cleantech Project Developers and Engineering Firms specializing in Sustainable Communities, Green Buildings, Energy Efficiency Technologies and Renewable Energy. Armed with the world's most diverse suite of Green Technologies and eco-Solutions, Neutopia can help even the greenest buildings uncover additional savings.
Pioneering a revolutionary business model that merges Corporate and Community Social Responsibility with Environmental Sustainability and Social Benevolence, Neutopia is the world's first Social Benefit Energy & Infrastructure Company.
Nothing is more powerful than an idea whose time has come…welcome to Neutopia!
Contact us today to find out when our next training seminar is, we are working around the clock in May/June to beat the Deadline for the rebates this Summer! We will send you the link to the Free online training or you can attend in person.
https://www.eventbrite.ca/e/canadas-first-smart-building-royalty-program-tickets-16769634428
Municipal Leaders, Aboriginal Chiefs and Economic Development Offices Contacted Across Ontario – Get your Communities Ready before the Rebate Deadlines Pass this Summer – Could Save Ontario Tax-payers $Tens of Millions in the First Year!
Spring 2015
Toronto, Ontario
Last week Neutopia ecoSOLUTIONS Inc., the world's first Social Impact Community Efficiency company (www.neutopia.ca, Est. 2008) launched a test pilot marketing campaign to attract host sites interested in being paid monthly royalty cheques to have a new smart building technology installed on their property that takes advantage of the information being collected by smart meters.
Click Here for Program Flyer:  Neutopia $600 Million Community Climate Challenge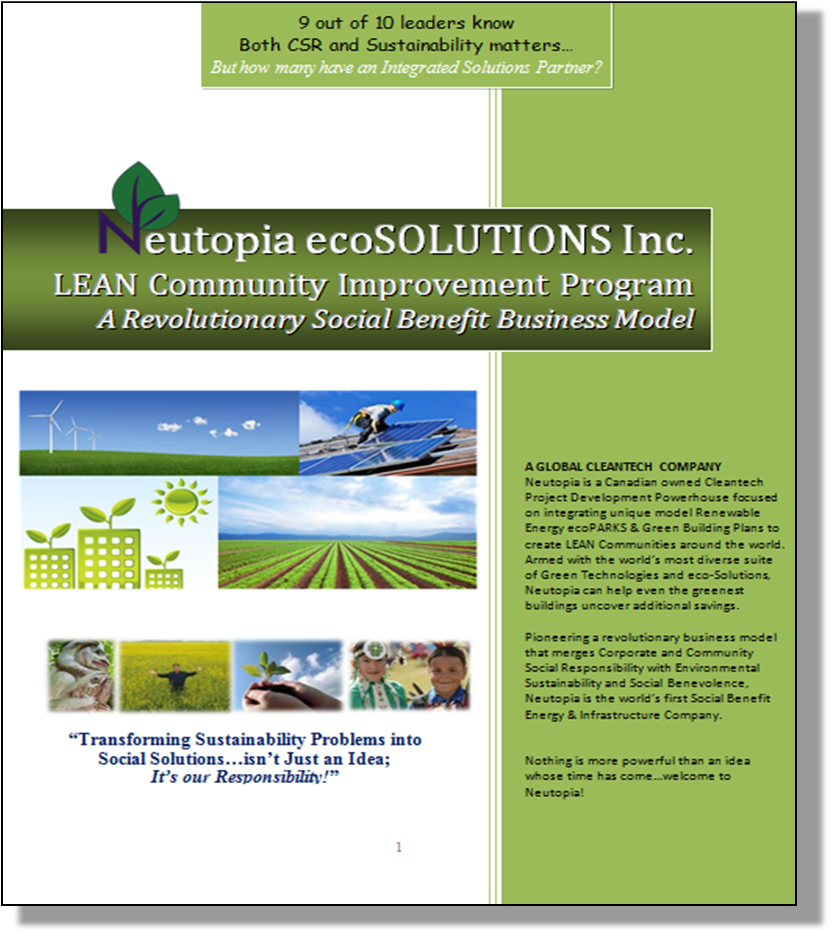 "The response was overwhelming so we really need the City Councils, employment agencies and even the schools to be ready," says Robert Laporte, CEO Neutopia,  "I just don't think the general population understands the cleantech revolution yet. When I was in South Korea the buses are being recharged at red lights right through the pavement without even plugging into anything, the windows dim at the turn of a switch, the garbage cans send waste through underground tunnels to power the schools, and here we are in Canada still scratching our heads wondering where to send our waste or what to do with our Municipal Energy Intensity info reports used to calculate our carbon footprints. We need to be moving faster.  The utility companies know what is needed, but they need companies like us to lead, they merely deliver the energy but we are the ones who need to use it efficiently.  WE need to be the change that we want to see and I have never been more proud to be Canadian than I am today, with this amazing team we have organized over the past few years. Being invited to teach these technologies at the International Vertical Cities Conference in South Korea and just last month in Central America, and to promote our Power Plant for Poverty project in southern Ontario and our food waste conversion systems, it shows just how far ahead of the curve we are with these Smart Building technologies, and we are on the verge of making history as we launch our global mass marketing campaign with social media. It's an exciting time."
Neutopia is launching a mass training program to prepare communities for the sweeping technological change that the smart grid is opening up. City Councils, Employment Offices and Economic Development Agencies across Canada are being notified; hundreds of new Ambassadors will be required to be trained to present the opportunity to property owners and collect basic building information for buildings from coast to coast; FREE Training Webinars throughout May & June
Click Here for Product Flyer:  Neutopia Electricity Recycling & Storage System 2015
"The technology will likely become mandatory with new building codes but the government rebates for it end this December, so people can save up to 50% if they are early adopters.  It's so easy a 12-year old with a Smart Phone can do it and yet it represents the most innovative solution to cut the Canadian carbon footprint in the fastest and least expensive way possible." says Robert Laporte, CEO Neutopia, who hopes to train hundreds of Ambassadors in communities across Canada over the coming months.
"The only obstacle I see are the property management companies who may be collecting revenue on total energy consumed in the buildings they manage but pass the costs on to the tenants, similar to waste management. Communities will need to ensure there is a fair, open and transparent adoption of these technologies and our system enables the obstacles to be eliminated. If any building manager doesn't install it, you just need to dig deeper to find out why they aren't cutting energy costs and the carbon footprint. This technology doesn't interfere with anything else they could be doing, doesn't require any changes to equipment or operations, doesn't require any maintenance, and doesn't even require a capex because we offer full financing so they can pay off over several years. And if they don't want to own it then Neutopia could end up offering to pay them monthly royalties to allow us to own it. We have learned so much in dealing directly with property managers and community leaders, some people just never realized that the more energy people consume, the better it is for certain companies…cutting energy use in buildings is not as easy as Obama would like people to think. But we know there are community leaders out there and forward thinking property management companies who really do care about the environment and care about cutting costs for their tenants so we hope to attract them."
"There's been no shortage of media articles quoting politicians who complain that smart meters weren't worth the investment. No kidding. They don't seem to comprehend that Smart Meters simply collect information; but it's what you do with that information that dictates whether or not you have a smart building.  I was wondering why the government would make it mandatory to install smart meters but not make it mandatory to install smart building technologies that reduce energy consumption. It took 17 years for the catalytic converter to become mandatory on automobiles to reduce carbon emissions…we aren't waiting for a government roll-out of this technology [it's already approved for government rebates but they end in December] so we are offering it with 100% financing and 100% savings guarantee and if any property owner doesn't want to invest or have it financed then we have the 3rd option, which I personally prefer, and that's for Neutopia to own it and pay them monthly royalty cheques. 100% guaranteed income without any capital outlay, not a bad business for us to be launching!"Neutopia's patented system introduces a new First Step before changing light bulbs or retrofitting any HVAC equipment. "It doesn't compete with those up-grades, people should be doing that anyways, this technology simply becomes the first step because it gives the building a new 'Prefrontal Cortex' that helps you reduce inefficiencies like your brain reduces all the background noise and information your body doesn't really need, and this technology saves energy immediately.  One part can be installed on the roof, one beside the building or even down the street it's totally non-invasive and non-disruptive.  It integrates multiple information relays that enable it to 'communicate with the electricity coming into the building from the grid', and automatically reduces the amount a property will be charged for on their energy bills essentially 'by recycling the electrons that a property may demand but which is not able to use efficiently'.
"Most people assume that you are charged for what you consume, but that is simply not the case; you are charged for what is delivered and that's a big difference. A lot of that is controllable, and smart building technologies can reduce large proportions of your energy bill because of how the bills are calculated. Toronto, for example, charges 39% more than Whitby for reserving space on the lines that you may not even use every day. Many people know about total energy consumption, measured in kWh, but very few people have any idea how the Demand charges are calculated and all of the other dozen charges that don't show up on your monthly statements. People simply don't understand how their bills are calculated and that's why our education program combined with our suite of 'Freedom from the Grid' eco-Technologies is going to help tax-payers take matters into their own hands. They can cut as much as 8% off their total bill immediately without even changing any equipment; talk about a revolution in energy costs that we are bringing and we only install it once verified by independent 3rd party engineering firms and our investors put their 100% Savings Guarantee stamp on our assessment."
The system can be combined with other cleantech systems as part of the total LEAN Community Improvement Program, such as Neutopia's on-site power generation from 'building-integrated' renewable energy and on-site combined heat and power, and is compatible with any energy storage technologies.  It also combines data from Neutopia's water conservation and on-site waste management solutions which can reduce organic waste by up to 90% and even convert it into revenue for host sites.  Laporte says that combining technologies from the 'Freedom from the Grid' portfolio can be life-changing for property owners in the short term.
Neutopia's $600 Million Retrofitting Canada Community Program Sets the Stage for Government Buildings, Franchises and Portfolio Managers to get Blanket Approvals across Canada making this solution the most innovative way to the cut the entire Canadian carbon footprint in the fastest and least expensive way possible.
Welcome to the smart grid.