You are here: Home » Industry News » Neutopia Launches Community & Corporate Climate Challenge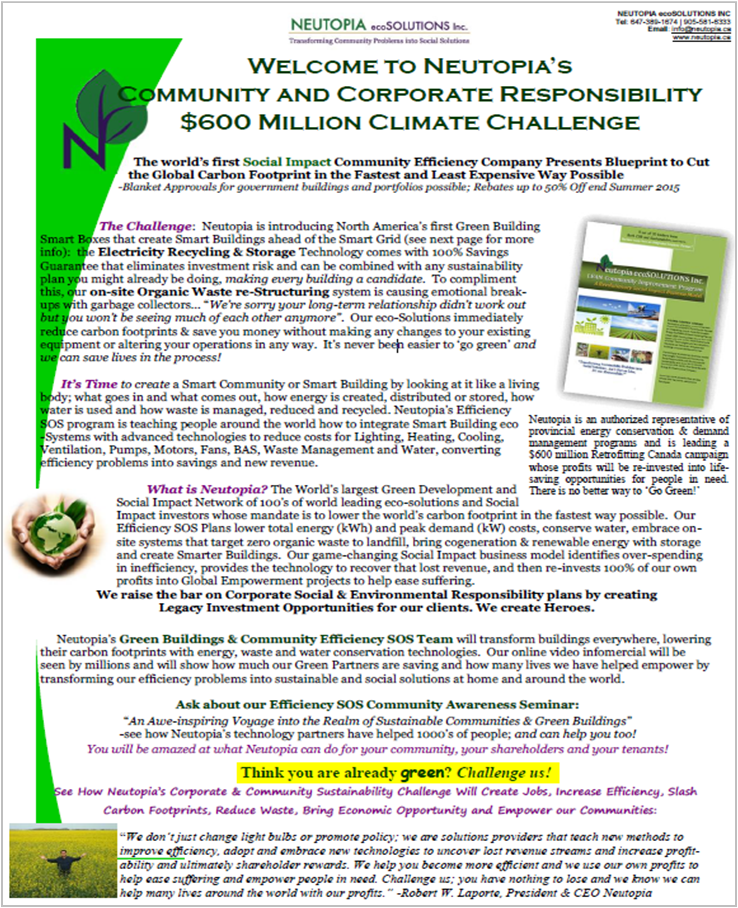 Add Guaranteed Savings to Existing Carbon Reduction Plans
Only Neutopia Ambassadors are Providing this Exclusive Solution
Governments can Save Tax-Payers $Tens of Millions in the First Year Alone
Our Total Efficiency SOS Plan eliminates a year's worth of studies and reports to accomplish an immediate action plan within a few weeks, prepared by a team of Engineers and Green Building Experts focused on Sustainable Communities and Efficiency Technologies
If a client is not interested, please let us install at our own cost and pay you monthly royalties as profit sharing or donate to a charity!

1000's of Neutopia Ambassadors need to be trained –

help us coordinate your local training program with your Economic Development & Employment offices; Every Building in your Community is a Candidate! Start with Government-owned buildings and lead by example!
Our eco-Solutions immediately reduce carbon footprints & save you money without making any changes to your existing equipment or altering your operations in any way. It's never been easier to 'go green' and we can save lives in the process!
The Challenge: Neutopia is introducing North America's first Green Building Smart Boxes that create Smart Buildings ahead of the Smart Grid: the Electricity Regeneration – Up-cycling, Recycling & Storage Technology comes with 100% Savings Guarantee that eliminates investment risk and can be combined with any sustainability plan you might already be doing, making every building a candidate.  Governments can save tax-payers $tens of millions in the first year alone. We assessed the energy intensity of one town in the GTA and estimate they are over-charging tax-payers by at least $20,000 PER WEEK. The immediate impact this technology will have worldwide is unprecedented.  It took the catalytic converter 17 years to become mandatory for automobiles, and we are not waiting for a law to enforce this carbon reduction technology, especially with such a massive environmental impact combined with a lucrative financial benefit simply waiting to be embraced.  This technology has become the new 'First Step' in any community efficiency or green plan, and we are offering it as part of our Total Efficiency SOS Program or as a complete stand-alone solution.
To compliment this, our on-site Organic Waste re-Structuring System is causing emotional breakups with garbage collectors… "We're sorry your long-term relationship didn't work out but you won't be seeing much of each other anymore".
While government leaders may be interested, we have come to learn that some property management companies do not want to install them because they collect management fees based on a % of the rent, which includes electricity, waste and water costs. So if Neutopia's new "Green Building Smart Box" lowers those costs for the tenants, including our own government offices, then the property management companies could potentially lose profits, even though they say they want to be as efficient as possible.  It's a catch-22 that is never talked about in the media, and we want community leaders to get involved ASAP because that is actually the biggest obstacle in global greenhouse gases, it's not transportation; it's our own buildings.  There are definitely some property management companies and community leaders that would be interested and we want to find them!
How can you participate? It is our priority to find the communities and companies that are interested in reducing these costs without any investment and without changing any equipment or operations. While the systems have an ROI of 20-50%, we are also interested in installing at our own cost and paying the real estate companies or municipal governments a monthly royalty and we know that could be millions of dollars for without them even investing a single dime.
Regardless of which route we take, Neutopia devotes its own profits for our Social Impact Community Empowerment initiatives so it is really the easiest solution to cut a community's carbon footprint while simultaneously benefiting people in need.
It's Time to create a Smart Community or Smart Building by looking at it like a living body; what goes in and what comes out, how energy is created, distributed or stored, how water is used and how waste is managed, reduced and recycled. Neutopia's Efficiency SOS program is teaching people around the world how to integrate Smart Communities and Efficient Building eco-Systems with advanced technologies to reduce costs for Lighting, Heating, Cooling, Ventilation, Pumps, Motors, Fans, BAS, Waste Management and Water, converting efficiency problems into savings and new revenue.
Neutopia's Green Buildings & Community Efficiency SOS Team will transform buildings everywhere, lowering their carbon footprints with energy, waste and water conservation technologies. Our online video infomercial will be seen by millions and will show how much our Green Partners are saving and how many lives we have helped empower by transforming our efficiency problems into sustainable and social solutions at home and around the world.
What is Neutopia? The World's largest Green Development and Social Impact Network of 100's of world leading eco-solutions and Social Impact investors whose mandate is to lower the world's carbon footprint in the fastest way possible. Our Efficiency SOS Plans lower total energy (kWh) and peak demand (kW) costs, conserve water, embrace onsite systems that target zero organic waste to landfill, bring cogeneration & renewable energy with storage and create Smarter Buildings. Our game-changing Social Impact business model identifies over-spending in inefficiency, provides the technology to recover that lost revenue, and then re-invests 100% of our own profits into Global Empowerment projects to help ease suffering.
We raise the bar on Corporate Social & Environmental Responsibility Plans by Creating Legacy Investment Opportunities for our clients.
We create Heroes.
Go Beyond the Common Savings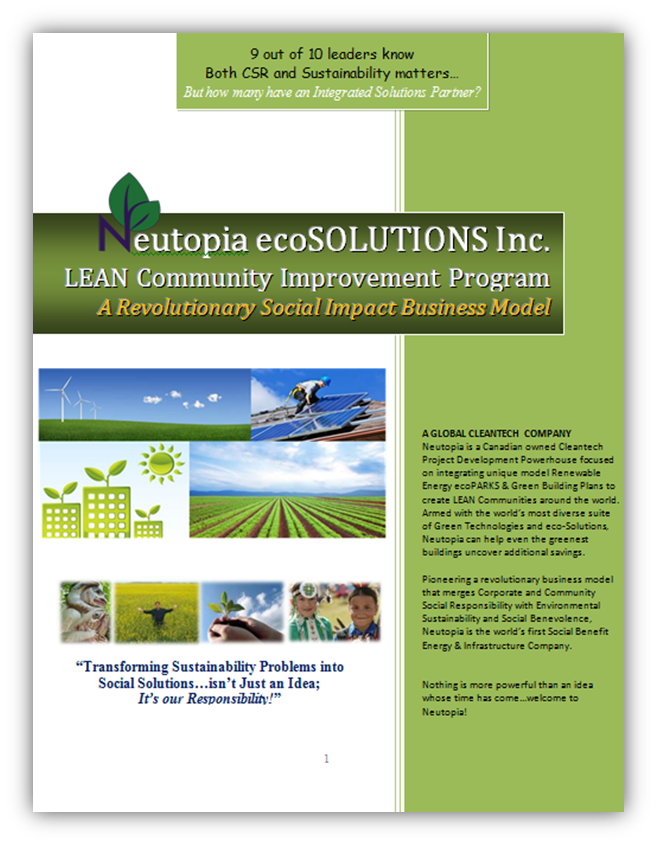 Join Neutopia's Green Partnership Program to receive a Total Green Building Solutions Efficiency SOS Plan highlighting immediate ways to save on energy, waste and water.  We can do the work of a full time on-site Energy Manager and you will have an entire team of engineers and Green Building experts all working together to provide you with a customized solution based on your specific problems.
We can have a total Green Building Efficiency SOS Plan within weeks, at a fraction of the cost of a dedicated Energy Manager and via a system that can have your executives reviewing multiple quotes from multiple manufacturers to decide which technologies you would like to pursue immediately, while tapping into our Green Investment Network to enable you to save your own budget for other needs.
We can accomplish in a few weeks what it could take you months or years to do. Trust us, we traveled 100,000 km across North America and are still in pain to see all of the wasted opportunities every time we walk into a government building, library, community centre, school and hospital.
The biggest problem are employees or company's who assume they are doing everything they can and simply do not even want to listen (which could also be a sign of lack of resources to efficiently multi-task, making our program even more beneficial!).  The second biggest obstacle is that in many cases a building may be managed by a company that collects management fees based on rent. This includes energy, water and waste management costs. So no wonder our largest Property Management companies are not racing to retrofit their entire portfolios. Sure, they do a few buildings to make the news and get projects published on the government energy board or local distribution company website to make it look like they are a 'green company', but we are intimately involved in the industry and we know who has tenants who are being severely over-charged for energy and waste and we want to help.  However we can't force people to conserve they need to want it. We are merely problem solvers and we know some people simply don't want to conserve because it will cost their shareholders millions of dollars.
This means we need to find companies who put Conservation ahead of shareholders financial rewards and we know this is a difficult mission. The surprise for most is that the financial rewards could very well be much greater than anyone anticipates as we have uncovered some amazing problems in communities and companies…in one case it was an increase in revenue of over $100 million per year. That was for an energy company in Alberta and was the impetus for Robert Laporte, CEO of Neutopia, to quit his job and found this company so shareholders can see how becoming more efficient can indeed result in financial gain while simultaneously becoming quite possibly the biggest legacy investment of their lifetime.
Learn how the smartest buildings are going beyond retrofitting Lights & HVAC to incorporate their own on-site energy recycling systems, even combining it with solar, wind, biofuel, W2E or cogeneration for hot water and electricity as a free by-product!
Transforming Waste Management Nightmares into Profitable Dreams!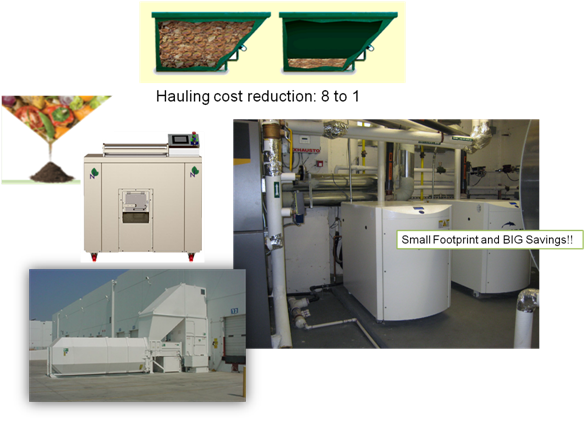 On-site Organic Waste boxes eliminate odours & reduce waste costs by 90%!! Call us to assess your needs whether it's for a school, high rise condos, offices, shopping malls, hotels or industrial sites. We have the largest portfolio of waste management solutions and our on-site Green Box takes care of all organic waste (food, scraps, yard clippings etc.). No more sky-polluting compost piles, no more expensive waste to energy technologies, just a simple solution that every building will eventually be incorporating…call to get started today!
Training Seminars
Inquire about our Tenant and Property Owner Awareness Seminars…See what others are doing and how you can save more!  You will be amazed at what Neutopia's global network of solutions providers are doing all over the world; in remote regions of Africa, in mining camps, in high rise towers, schools, prisons, hospitals and government buildings. We can customize our presentation to meet the needs of each audience. It has been presented to thousands of people across North America, Caribbean and Southeast Asia…and even more via Skype.