The United Nations Millennium Development Goals for energy were intended to increase clean energy generation & adoption of efficiency technologies around the world to reduce our carbon footprints. Neutopia ecoSOLUTIONS Inc. is a blueprint on how to streamline discovery and development opportunities quickly. We are game-changing Solutions providers combined with the Internet of Things, and our time has come.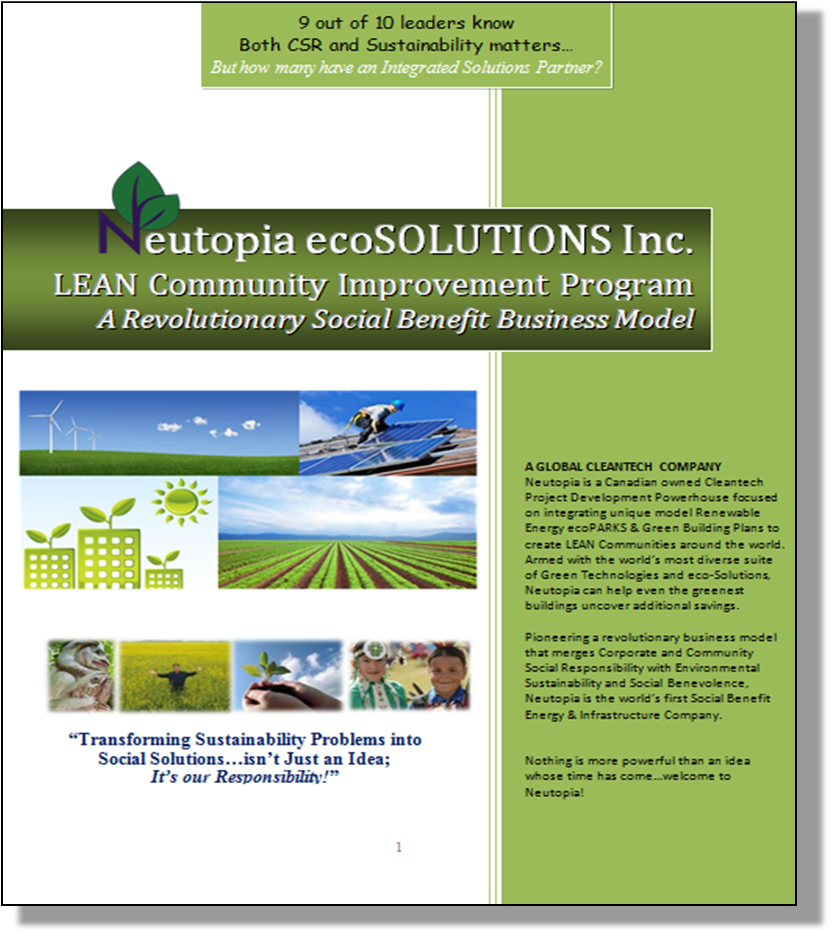 Neutopia's LEAN Community & Green Building Programs
Neutopia is a fast growing global network of leading technology companies and a sales network specializing in efficiency, enabling us to present a complete suite of green technologies to help entire communities to 'go green', solving energy and waste problems while creating long-term sustainable employment. We accomplish this by creating our unique Neutopia ecoPARK & Green Community Plan™ based on the concepts of biological systems integration; a methodology similar to what Kaizen and Six Sigma™ have done for industries, and what LEED™ does for buildings, although on a much larger scale to benefit entire communities.
Essentially, communities should be regarded as living organisms; what comes in, what goes out, and how the different services and local industries can connect like organs in the body functioning harmoniously to benefit the whole. We uncover efficiency problems and lost revenue, provide the technology/equipment to recover that lost revenue and then re-invest 80-100% of our profits into Community Empowerment programs; this could be to provide energy to a remote village in a developing nation or to help a local food bank, school, or support for seniors or persons with disabilities. The exact project depends on the client we are helping.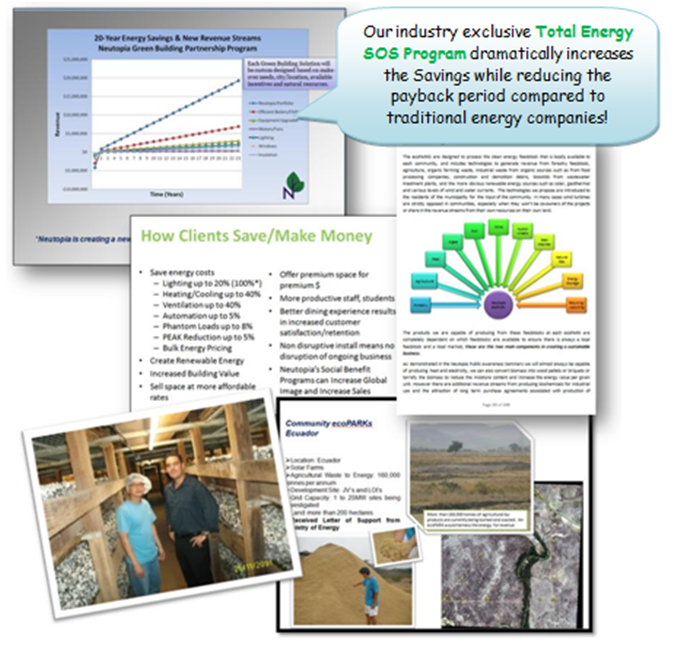 Pioneering a revolutionary business model that merges Corporate and Community Social Responsibility with Environmental Sustainability and Social Benevolence, Neutopia is the world's first Social Benefit Energy & Infrastructure Company.  We don't just change light bulbs or promote efficiency; we are technology integrators that teach new methods to improve efficiency, adopt and embrace new technologies to uncover lost revenue streams and increase profitability and ultimately shareholder rewards.  Our technology partners develop new ways for energy to be generated, delivered, stored and utilised. We bring them to the world.
Reducing Financial Risk is Key to Breaking Barriers and Creating Enablers

The Neutopia Green Energy Investment Network is prepared to finance up to $600 million in Green Building projects in Ontario alone. In other words, property owners don't even need to pay the up-front cost to get these solutions installed. Combined with a renewable energy division managed by financial advisors experienced in international project development, financing and operations, Neutopia is set to make a global impact and is already fielding requests for entire community ecoPARKS and Green Building projects around the world.  This is sure to make their manufacturing partners a lot of money without paying for new sales reps.
 The Social Benefit business model has attracted international interest where Neutopia has been a guest lecturer on merging Sustainable Community Development, Social Innovation and Leadership in Business. Neutopia is now receiving requests to develop these green plans and provide the equipment and technologies and is expanding the training program for an international team of Ambassadors to uncover business opportunities around the world.  Currently pursuing projects for high rise condos, hotels, resorts, industrial and commercial sites, Neutopia is streamlining efficiency projects and is about to cut the global carbon footprint with a historical impact.