Click links for full Brochures:
Neutopia Ambassador and Green Scholarship Program Brochure May 2013
Neutopia Yonsei University Social Benefit & Green Scholarship Info Sheet 2013
Neutopia is pioneering a new stage in reaching our ultimate potential by merging LEAN Entrepreneurship with technological innovation and social benevolence.
Neutopia has partnered with Yonsei University to offer the world's first Social Benefit and Green Scholarship Program.  Up to 15 Canadian Students will share in $1.3 Million Dollars in University Scholarships. 3 years will be at Yonsei, the #1 private school in South Korea, and you can spend one year at any one of 609 participating universities worldwide! You can also participate in fully funded research trips to other countries.
We need 3 students to apply before May 17, 2013. A minimum 70% average is required and a desire to help empower communities by using green energy and efficiency technologies. It's simple to apply; send a one page letter explaining why you think you should be chosen, along with your transcript and proof of Canadian citizenship.  Students will be trained as Neutopia Ambassadors and will then be able to work part-time while earning a degree in Business, Economics, Political Science or Culture (students can work as little as 2 – 10 hours per month, or come back to Canada and work full time in the summer!).
For those who are simply seeking extra work people of all ages in any country can join the Neutopia Ambassador Program which offers lucrative revenue opportunities, even the potential for early retirement if involved in a community ecoPARK project! Whether you are on the scholarship or simply a Neutopia Ambassador, you will be part of our green teams trained in eco-consulting and get to work on ecoPARK and Green Building Projects and Project Scouts will be trained in identifying green project opportunities in our neighbourhoods at home and around the world! You can even sit at home and work from your computer, or help host the Neutopia Seminar Series: "A Two-Hour Voyage into the Realm of Renewable Energy and Green Building Technologies". It's like the Discovery channel meets the world's most exciting Social Benefit company.
Ambassador Program
Our future trade routes of energy are no longer simply focused on oil and gas from traditional fossil fuels, but oil from renewable feedstocks such as trees, plants, food waste and even animal waste products. They will be compressed beyond the gaseous state and liquified for transport in tankers powered by renewable biofuels, fuel cells, cleantech batteries and wind energy.  Neutopia is ready to train our next generation of energy specialists, where students will learn from seminars with guest speakers and see case studies of what is happening all over the world; from biofuels and solar farms to green buildings and waste conversion technologies, audiences are always amazed at the revolution that is unfolding before us. Neutopia is a global network of technology solutions providers and engineering firms and a Green Energy Investment network ready to streamline the development of cleantech projects around the world, our game-changing Social Benefit business model mandates that 80-100% of Neutopia's profits are devoted to Community Enhancement. We are the world's first 'pay-it-forward' energy and infrastructure company!
Why Volunteer when you can get paid to learn, travel, and change the world!
Neutopia Ambassadors will get to work on projects with Neutopia's team of experts led by Renewable Energy project developers and award-winning LEED certified Energy Efficiency & Green Building specialists, preparing green project proposals and earning great money while also accumulating 'Neu-Change'; Neutopia credits for international travel to work on Neutopia projects in countries of your choice!  Were you planning to go to South America on vacation? the Caribbean? Why not turn it into a business trip and stay longer with Neutopia!
International Social Benefit & Green Energy Scholarship Program
***HURRY!!***
First 3 students' applications must be submitted by May 17th
September admission deadline for additional students: July 12, 2013
Neutopia has partnered with Yonsei University EIC (east-Asia international college) to launch the world's first million dollar International Social Benefit and Green Scholarship Program. Up to 15 Canadian students will be trained as Neutopia Ambassadors and will be awarded 4 year tuition at Yonsei, one of the world's top business schools, which may even pay students to earn degrees & also travel! (All classes in English). One year can be spent at any one of 609 participating universities worldwide.
Students who have recently graduated high school in Canada with a 70% average may qualify for our Million Dollar International Social Benefit & Green Scholarship Program.  While the university ultimately makes the final decision on who they accept, as it is the #1 Private School in South Korea , we have partnered with them to open doors for students who demonstrate the potential to be leaders of tomorrow but with a special focus on Social Enterprise and Green Energy.  Many students don't necessarily have the highest marks in school, but they are creative, innovative, inspirational, and simply 'born leaders'. This scholarship program gives them a chance to continue their education and earn a university degree while also being a Neutopia Ambassador! Our goal is to help these students reach their ultimate potential.
Why a Neutopia Ambassador Program for South Korea?
In March 2013, Neutopia was a special guest speaker at the International Vertical Cities Conference in Seoul, and toured the region for a few weeks to meet with key stakeholders and understand the problems, opportunities and to discover the potential for Neutopia Ambassadors to launch our efforts in South Korea.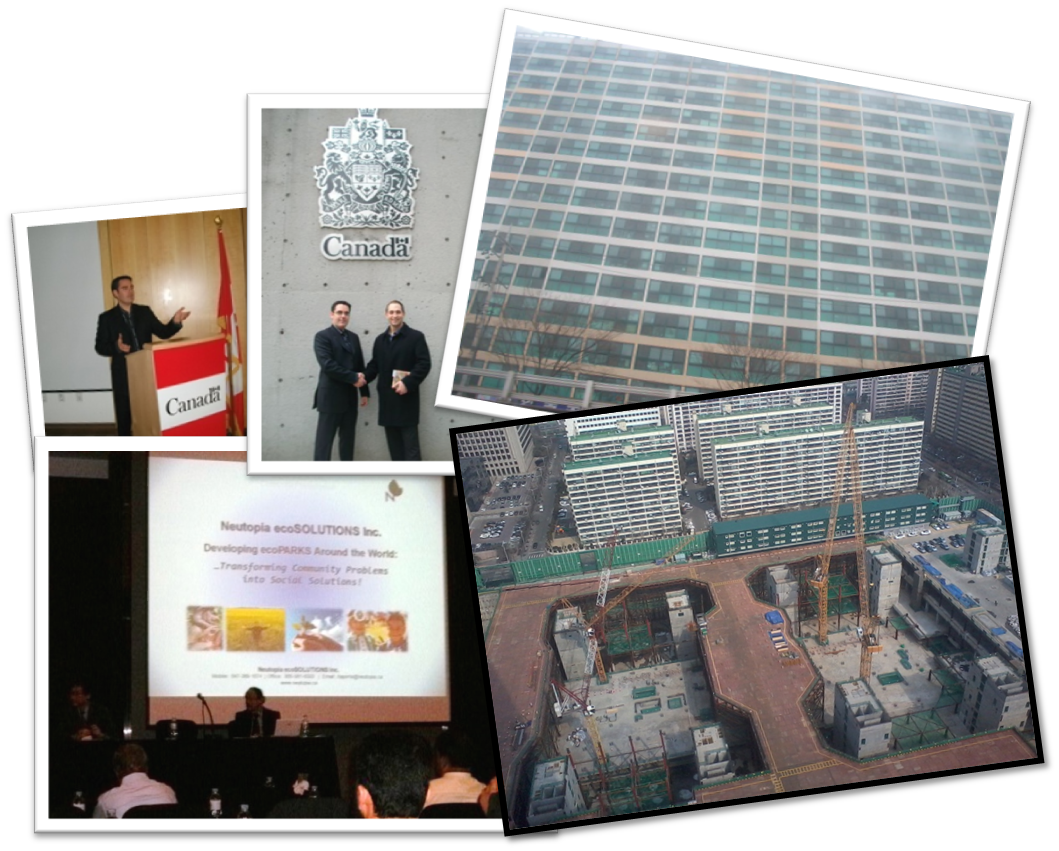 Thanks to South Korea's forward-thinking government, their Renewable Portfolio Standard and major initiatives to adopt Energy Efficiency in Buildings and Communities, we see it as a direct fit for Neutopia's Social Benefit Green Partnership Programs and planting our seeds in their fertile economic development environment. We met with officials from the Canadian Embassy, South Korean Economic Development offices representing 2 major development sites, international project developers and technology providers and already attracted a hotel owner who is eager to 'go green'…all in only one week!
–Neutopia's blueprint can streamline discovery and development opportunities quickly. Our time is now.
It Gets Better!
EIC MAY PAY YOU $6000 ANNUALLY TO GET A DEGREE, waive up to 100% of tuition & housing fees, & all flight & hotel fees on approved research trips. Working as a Neutopia Ambassador in your spare time will earn valuable work experience and potential for added income; help Korea 'Go-Green' while earning a degree! 
Email an intro letter, resume, & transcripts for scholarship info and include a personal 1-page statement explaining why you are interested in Social Enterprise & Sustainable Development. Why do you think you should be accepted over other applicants? Have you already been involved in Social Enterprise or Sustainability projects in your community? Do you have a project idea as a Neutopia Ambassador or as a Yonsei EIC graduate?
Quality Living
Yonsei has affordable living, student fees, dorms and more 'extras' included in tuition than other competing universities. Korea is famous for delicious food & a safe environment. Korea's oriented around family, development & education. Mountains, rivers, a lake, affordable food – highly nutritious meals to keep hungry students well nourished are well priced with even fast food during cram sessions is available cheap (a McDonald's Happy Meal is $3.50), affordable transportation (the trains have seats with automatic massagers to make even the long trips most comfortable!) and one of the world's most advanced mega cities, Seoul, are all inviting. Close professor-student relationships, with professors accessible in "Residential College" dorms, small classes, and during mentoring sessions, with students assigned to at least one professor as a mentor, counsellor and friend for guidance, helps students obtain the best care & direction during studies.

Yonsei is the #1 Private University in Korea, Ranks Highly Globally, & is Climbing Fast!
Extracurricular Activities
Yonsei has many university games including hockey, rugby, badminton, swimming, and the famous "Yon-Ko-jun" with so many people packing the streets in and around the main Seoul campus that the streets are blocked as far as the eye can see. Many restaurants & pubs support activities with complimentary food & drinks.
In addition to Korea's world-class skating, swimming, & soccer, EIC has many nearby ski resorts, high tech facilities, lake access, mountain trails, comfortable transportation, beautiful beaches within a short drive, & much more! Korea is fun, affordable, exotic, holds the OECD's highest educational ranking, & it's safe (street vendors don't even take home or lock up their merchandise at night), it's truly a unique culture of family and love of country)!!

South Korea's Exponential Growth
Korea's growth is world renown to be "miraculous." Korea is growing explosively and Yonsei wants to raise the percentage of international students to keep up with a true globalized education. Korea hopes to increase the multicultural aspect of its communities. Hyundai makes hot cars and Samsung makes computer chips, Galaxy smart phones & much more, including much of Apple's equipment. When it comes to developments & high tech, Korea is winning & is clearly one of the world's most advanced nations! Seoul alone produces $531 Billion, half of the total GDP wealth of Canada. East Asia is the new center of the world and growing fast!
For More University Information:
Sean Watts, Chair, Business & Economics, Management & Entrepreneurship, A. Professor, EIC, Yonsei Univ.
Yonsei University, EIC (East Asia International College), South Korea SeanWatts@Yonsei.ac.kr & eic@yonsei.ac.kr, http://eic.yonsei.ac.kr
For Neutopia Ambassador and Scholarship Info:
Neutopia ecoSOLUTIONS Inc.
Robert Laporte, President & CEO Neutopia
Office: 905-581-6333 scholarship@neutopia.ca www.neutopia.ca
***HURRY!!***
First 3 students' applications must be submitted by May 17th
September admission deadline for additional students: July 12, 2013
About Neutopia's Innovative Business Model
Neutopia's proprietary SWARM Project Development Protocol is attracting  international attention. It may become the next big thing in Green Buildings and Renewable Energy project development because it takes cleantech projects and LEEDS certified buildings beyond themselves and assesses the role that the cleantech power plant or green building has in a whole city of buildings and people.  Having a green building doesn't make a city green; that's like saying one healthy organ makes a healthy body. But we know that's just not reality.
We need to start looking at our cities like a living organism; what goes in and what goes out. Which community offices are like the organs driving the health of the city; power generation, waste management, wastewater treatment, public works, utilities, buildings and facilities management etc.  Anyone can retrofit a building with a particular energy efficiency technology or develop a renewable energy project, or create a landfill diversion initiative, but integrating them in a way that makes them not just economical but highly profitable means you need to look at the bigger picture. There is a way to make it fully profitable and sustainable.
Neutopia's SWARM Project Development creates a new way of association elevating
Community Sustainability and Social Responsibility to whole new level.