Smart Building Green Box cuts Electricity Charges from Smart Meters -Becomes new first step before any efficiency retrofits considered
May 13, 2015 – TORONTO — Neutopia ecoSOLUTIONS Inc., Canada's first Social Impact & Community Green Plan Company (neutopia.ca, Est. 2008), recently presented the findings of an unprecedented Restaurant Efficiency SOS Program to franchise executives in Montreal.  The 100+ page report was co-authored by more than a dozen engineering firms who are part of the Neutopia Green Development Network, a global collection of the world's leading eco-Technology manufacturers that help property owners reduce operating costs.
The purpose of the Efficiency SOS Plan was to determine if there are any ways to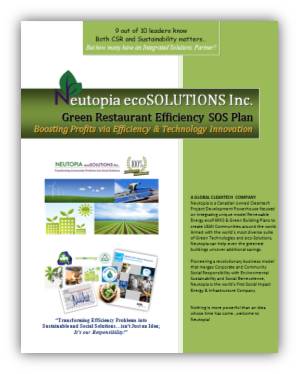 further reduce the cost of operations that may have been overlooked in shareholder meetings or with previous upgrades. Neutopia eagerly took on the project knowing that the results could be quickly shared with the more than 200 restaurants across Canada that are all part of the same parent company. The results were shocking; if the estimates for the pilot site are to be taken as an average across the whole portfolio it could mean more than $1 Million in savings annually from just one of the technologies.  Neutopia hopes franchisees will want to combine it with one or more of the other technologies in Neutopia's Freedom from the Grid suite of eco-Solutions like renewable energy with energy storage, on-site generation, on-site solution to target Zero Food Waste to landfill, or the more common LED lighting and HVAC upgrades, all of which have a drastic and immediate impact on a company's bottom line.
While the owner of the pilot site decides which savings opportunities to pursue at the Scarborough location, the parent company, which recently approved an investment of more than $5 million in renovations as part of a company-wide rejuvenation program, now has to decide whether or not to immediately authorize a national roll-out of the innovative program.  While the decision to participate will ultimately be up to each restaurant owner, Neutopia's 100% Savings Guarantee eliminates any financial risk to the franchisees.  Furthermore, the eco-Solutions are all proven technologies that are backed by Neutopia's Green Investment Network which gives the parent company the option to save their own budget for their rejuvenation program while tapping into Neutopia's Green Financing program.
What's most interesting is that Neutopia's Green Development Network includes coast to coast installation teams and could have the entire company retrofitted within months. At $3000 per day estimated over-spending on energy alone, the savings will accumulate quickly and could end up paying for the entire $5 million company rejuvenation program before that program is even completed.
What if a Restaurant is already doing a Green Plan?
In the case where a franchisee says they are already pursuing a 'Green Plan', only Neutopia Ambassadors are authorized to provide the game-changing Smart Building Combined Energy Regeneration & Up-cycling with Storage system in Canada which can have an immediate reduction of electricity charges from 20% to 50% without making any changes to equipment or operations. We believe it is the world's easiest solution to cut the global carbon footprint in the fastest and least expensive way possible and can be combined with any other Green Plan including efficiency, renewable energy and waste management. So if a restaurant is already doing a Green Plan the only obstacle is if it is being done by a company that doesn't want to save even more without changing anything, and that's unlikely.
"Besides," says Robert Laporte, CEO, "Neutopia is the world's first Social Impact Efficiency Company and our profits will be re-invested to help people who are suffering. This is great for restaurants who can promote this on their menus so patrons can actually visit our website to see how they are having a direct involvement in helping to change somebody's life. That leftover food waste could be converted to medicine and education programs, and that paper towel just might be turned into a solar panel to provide energy to a family in need. The ideas are endless, and we are thrilled to be launching this program across Canada. While we push ahead with our Green Restaurant program,  our next targets are Municipal leaders and property management companies…we have identified tens of millions in savings in Canada's government buildings alone, and we have already reached out to the property management company managing 9000 of their buildings, hoping they will want to work with us. We tried We are on the verge of saving tens of thousands of lives in a way that nobody dreamed possible."
About Neutopia
Neutopia is a Canadian cleantech project development powerhouse focused on integrating Municipal Green Plans and Renewable Energy ecoPARKS to create LEAN Communities around the world.  Neutopia is a global network of Cleantech Project Developers and Engineering Firms specializing in Sustainable Communities, Green Buildings, Energy Efficiency Technologies and Renewable Energy. Armed with the world's most diverse suite of Green Technologies and eco-Solutions, Neutopia can help even the greenest buildings uncover additional savings.
Pioneering a revolutionary business model that merges Corporate and Community Social Responsibility with Environmental Sustainability and Social Benevolence, Neutopia is the world's first Social Benefit Energy & Infrastructure Company.
Nothing is more powerful than an idea whose time has come…welcome to Neutopia!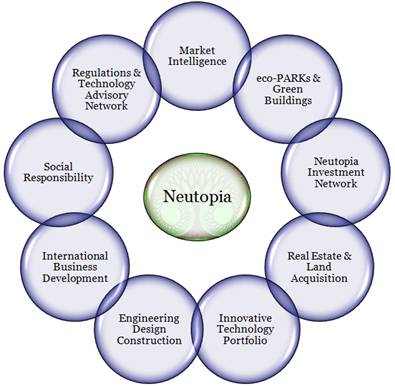 Not every client or community has the same problem, but they all have the same type of problem; primarily energy and waste management.
Neutopia has created a unique business model which includes an unprecedented network of technology providers and project scouts ready to initiate our projects.
When hired by an individual client or by a town, our multi-disciplinary team of experts is put to work. This team is composed of renewable energy experts, environmental scientists, engineers, biologists, green building specialists, grant writers, even government relations and Aboriginal advisors.
When Neutopia is recruited, our multi-disciplinary team of experts arrives. We first conduct a Community Assessment based on our 30-point Action Plan over a period of several months. We then present our Public Awareness Seminar, an awe-inspiring multimedia show, to attract interest throughout the community.
Putting the Business Model to the Test: Neutopia's First Project Advisory Team
We had more than 30 advisors assist on our first Neutopia Green Community Partnership Project, which was at the most northern region of the highway 11 corridor. We conducted the community assessment over a period of several months and created a Project Advisory team based on the requirements of that particular ecoPARK plan for that particular community, which included a high profile mining company that required a solution from Neutopia to provide up to 300 MWe of power.
The process included dozens of conference calls with our technology advisors, meetings and interviews with representatives from multiple governmental offices and key stakeholders such as OMAFRA, MNR, MNDMF, OPA, REFO, First Nations, Hydro One, TCPL, and a host of municipal officials for City Planning, Waste Management, Public Works, Economic Development, etc. and also the evaluation of potential development sites and infrastructure upgrades for the electricity grid & natural gas lines.
Knowing who to call is one part of the equation, but knowing which questions to ask based on the requirements of a particular technological solution is one of the key competitive advantages of Neutopia. We were able to organize and plan an entire Green Community Plan and a Green Mining ecoPARK resulting in a 188 page report "Neutopia Reveals Plans for $450 million ecoPARK to Support the Development of Ontario's Ring of Fire Mining Activities".
This report is now in the hands of the Municipal Council and we are waiting eagerly for the announcement from the mining company if they're going to pursue developing their manufacturing facility in the region, if not then our proposal can still be developed on a smaller scale if the Municipal officials want us to proceed.
This feat was accomplished in a few months, something that would otherwise have taken a general municipal economic development office more than a year to complete including the high cost associated with hiring various consultants and issuing public requests for proposals and quotes. We have now proven the effectiveness of a simple but intricate system that we are able to duplicate for communities right across North America.
2 Public Awareness Seminars were also presented to attract interest. Dozens of members of the community attended the 2-hour multi-media presentations and resulted in more than $35 million in Green Building and Renewable Energy projects. This includes projects that we have already been contacted for as well as new projects that we are now preparing project proposals for.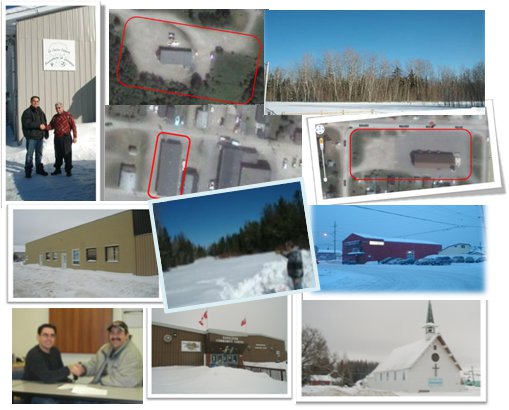 The opportunities in the Municipality are tremendous as it is in the heart of Ontario's richest sources of under-utilized natural resources and vacant land and could lead to significant economic development.
We've already been approached by building owners who are interested in Green Building projects and rooftop solar, land owners who own property for wind and small ecoPARK projects with greenhouses, and the co-owner of a wood mill who wants to re-open the mill by integrating an ecoPARK on the property to enhance the investment opportunity. Neutopia has so many opportunities to pursue, we need more feet on the ground every time we make a public announcement!
Neutopia is a Vast Network of Solutions Providers!
Neutopia has established relationships with development partners and formed alliance with the industry leading technology providers who have already designed and built 100's of renewable energy projects in North America and around the world. It's important for us to only partner with leading engineering and construction firms who are top in their respective specialties, this ensures we are investing in well established cleantech companies with proven systems backed by performance guarantees.
Multiple companies throughout North America and around the world have been in highly confidential meetings with Neutopia to incorporate their technology at our sites. We have established relationships with the companies that passed our due diligence review, are bankable and which share our community benefit philosophy.
It should be noted that if any of our development partners, clients or a community has a preference for a particular technology over one that we recommend, we are not exclusive with any one technology provider and could easily integrate a technology of their choice.
Whether it's for small residential projects or large utility scale projects for entire communities we have aligned ourselves with global leaders: Please click here for more details.
Our Portfolio includes:
Green Buildings and Energy Efficiency
Renewable Energy

Solar
Wind
Biofuels
Geo-thermal
Biomass conversion
Wood Pellets / Briquets
Waste-to-Energy
Cogeneration
Clean Water
And more!
More importantly, with regards to our ecoPARK projects we have recruited the number one company in North America for materials recovery facilities and are able to complement that with various manufacturers for adding different components at the ecoPARK that may be required for specific feedstock streams.
No other company has designed and built more waste management / recycling / biogas production facilities than the team that Neutopia will be bringing.
We have also established direct relationships with dozens of manufacturers for the major components that would be integrated into these facilities including:
Process equipment for MSW, ICI, C&D, Mining Waste, Hospital waste, Agri-waste, Hazardous Chemical Waste
Sorting and separating technologies for glass, metals, plastics, organics
Grinders, shredders, compactors and conveying systems
Thermal conversion systems including biomass boilers, RDF conversion systems, pyrolysis, gasification, plasma, steam reformation, microwave systems etc.
Landfill gas capture, clean-up and power generation
Wastewater treatment, biosolids processing & conversion to clean energy
Algae systems
Greenhouses (food, fish, energy!)
Our projects will surely attract the interest from local farms and the general community for our ability to process their waste at the same site, including the recycling/repurposing of hazardous wastes if they are currently land-filling such materials and there's a request for such a system in the community.
While such wastes are currently disposed of in manners that must meet certain government established standards and regulations, if there's a residential neighbourhood near a landfill they usually do not want such materials buried close by as they have to live, eat and breathe in that local environment. We would be happy to provide recommendations and assist you with your needs.
Our plans will also include a variety of additional systems & technologies such as biochar production for use as a soil amendment, greenhouses for growing food, biofuels and nutraceuticals, waste heat recovery systems (technology that is currently being evaluated by Sustainable Development Technology Canada), small-scale wind turbines (depending on community desire) and a solar farm to complement the revenue per acre.
We remind communities that technology manufacturers are merely selling a product; Neutopia can use that technology to convert a community's very own waste into programs to benefit the community. We want to be the number one choice for Green Community Partnerships and we believe our Social Benefit business model is a game-changer for the industry!