Neutopia is Set to Revolutionize the Global Cleantech Market
Incorporated in 2008, Neutopia launched a cross-continental business feasibility study and traveled more than 80,000 km over two years to meet with community leaders and landowners. Neutopia is now emerging from stealth with more than a quarter billion dollars in green development projects in various countries.
The unique Social Benefit energy company is the first of its kind in the world and is attracting international interest. Investors are not only guaranteed revenue from government-backed contracts, they may even qualify as 100% tax write-offs due to the innovative business model that has the potential to forever change the way energy projects are developed.
Neutopia is already actively recruiting project scouts in various countries from the website, www.neutopia.ca, which went Live on June 5, and is working closely with the Canadian Department of Foreign Affairs and International Trade to kick-start their first international projects located in Ecuador and Dominican Republic where they established branches last year. Phase 1 of the first Latin American ecoPARK project is estimated to generate a revenue of more than $252 million over 15 years.
About Neutopia
Headquartered at the prestigious Palace Pier in Toronto, Ontario, Neutopia is a unique Canadian development company whose Community ecoPARK business is set to change the way communities manage their resources while their Social Benefit business model ensures the revenues are re-invested into the region leading to a triple bottom line business venture that not only raises the bar on true corporate social responsibility, it also stimulates greater environmental and community health.
What is a Neutopia ecoPARK?
An eco-PARK is an eco-industrial site that integrates a variety of renewable energy technologies throughout the park in a sustainable manner in order to maximize the greatest revenue possible per given land area.
Neutopia first identifies a particular problem in a community that can be solved with a particular technology (such as a chemical recycling plant or conversion system for municipal waste), and we then conduct a community-wide assessment to determine if there are multiple problems that could be solved by combining technologies at an eco-PARK to process a wider variety of feedstocks (e.g.: food processing wastes, forestry waste, crop residues, animal manures etc.) as well as to optimize our investment dollars.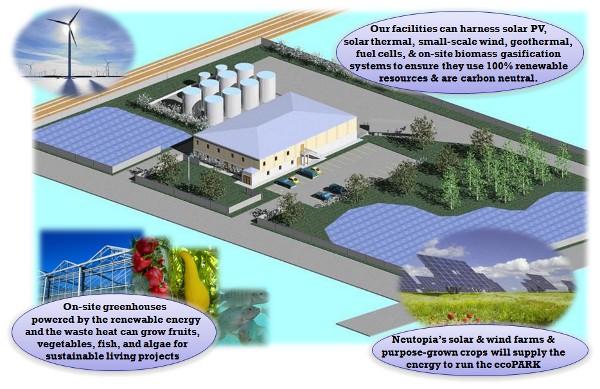 We then custom design a holistic plan to incorporate the necessary equipment & technologies to convert the various feedstocks into value-added products such as biofuels, renewable power, and chemicals for use in a variety of bio-based products. This is then complemented with a massive investment in other clean energy technologies such as solar, wind, hydro, waste-to-energy, wood or biofuel pellets etc.